Battery Innovations and Technology Powering Our Future
More and more of daily life is defined by modern technology and electronics. As electronics take up a bigger role in daily life, the batteries that power that technology become more and more important. That means batteries need to be a lot better and more efficient.
Fortunately, there are a lot of exciting innovations in battery technology that will make batteries better, stronger, longer lasting, and more efficient. These new kinds of batteries will help power our personal electronics, our homes, and our cars and may even serve as backbones for our telecom and power grids. That's just the start of the list.
Even more importantly, our world is in desperate need of more power. Power to feed, clothe, and accommodate the billions of people living here. Ideally, that power should come from green sources, sustainable power, and power storage that don't pollute the planet. We're on the verge of such a power revolution, with greener and more sustainable power sources to help fight climate change just around the corner.
These batteries, and their improved efficiency and life span, help make that goal possible.
New Battery Technologies That Will Change Our Future
Every battery technology has natural limits. That means that for a greener, healthier, and more powerful future, we need innovations that surpass the limits of older technologies. All of these new battery technologies show promise as possible answers to the green energy problem, and each battery has its own advantages and disadvantages for different applications.
If you've ever wondered what the latest battery technology is or wanted to know what kinds of batteries are being developed right now, you're in the right place.
1. New-Generation Lithium-Ion
There's a new generation of lithium-ion batteries today, and it's important to be educated about it. Here's what you need to know.
Battery Introduction
The current generation of lithium-ion batteries are some of the most widely used and versatile batteries out there, but there are serious issues that need improvement to make them a good, long-term battery type.
New-generation Lithium-Ion batteries of several types are in the works. Each type uses slightly different alloys and materials to help improve battery capacity and efficiency. One of the goals of new generation lithium-ion research is to make it possible for the batteries to store power in both positively and negatively charged electrodes. Current technology can only store power in negative electrodes. Several forms of new battery technology make storing power in positive electrodes more possible.
Advantages of This Battery Type
New-generation lithium-ion battery technology offers several advantages. For one thing, since they are an improvement on existing designs and technologies, it's likely that manufacturers will be able to adopt the new designs and requirements relatively easily.
These batteries are also likely to offer better power reserves than current lithium-ion batteries without sacrificing the current technology's efficiency.
These batteries also offer wide temperature compatibility, fast charging times, and a higher-than-average cycling life which makes them great for long-term use.
When Can We Expect It?
New-generation lithium-ion batteries are constantly being tested, and some minor improvements have already come out. You can probably expect to see more significant improvements in this new battery technology in the next 3–5 years, particularly when it comes to new electric vehicle batteries.
2. Lithium-Sulfur
Lithium-Sulfur batteries are starting to make waves, and the best researchers are doing their best to give a great innovation. Here's what you need to know.
Battery Introduction
The main difference between lithium-ion batteries and Lithium-Sulfur battery technology is that while lithium-ion needs storage structures inside the battery, Lithium-Sulfur batteries do not. Lithium-Sulfur batteries instead use a series of chemical reactions with the sulfur around the anode to charge and discharge energy.
Advantages of This Battery Type
For one thing, this battery type has the potential to be extremely light thanks to the relative weight of the main components. This battery type also has the theoretical potential to be up to four times stronger than current lithium-ion batteries. That means these batteries potentially offer enough power for space flight and aviation applications.
This battery type also has the potential to be made with a solid-state electrolyte that would greatly improve battery life and cycling performance.
When Can We Expect It?
While there are still some hurdles to overcome, a lot of the breakthroughs needed for Lithium-Sulfur batteries have been happening recently. We could see Lithium-Sulfur hitting the market soon since they are anticipated as a rapid release after solid-state batteries get a little more common. We are expected to see these batteries in the next few years.
3. Saltwater Battery
Saltwater batteries are already available, but manufacturers find it quite difficult to produce. Nevertheless, here are some quick facts about them.
Battery Introduction
Saltwater batteries are similar in design to other batteries. Much like the name suggests, saltwater batteries use sodium as the primary element for energy storage instead of lithium. That makes these batteries less toxic, but while sodium is abundant, they can be relatively expensive.
Advantages of This Battery Type
Saltwater batteries come with a long list of advantages over other battery technologies thanks to the change in element composition. For one thing, saltwater batteries are significantly less flammable than other types of liquid batteries. They also offer improved safety since the batteries don't use many of the toxic chemicals and acids other batteries rely on.
Not using those toxic chemicals and acids also makes saltwater batteries significantly easier to recycle.
Saltwater batteries also tend to have a relatively long life cycle and don't burn out easily. That makes them a reasonable option for new solar battery technology as well.
When Can We Expect It?
Some saltwater batteries are available, but challenges in manufacturing costs mean that saltwater batteries aren't advancing as quickly as some alternatives. Saltwater batteries also aren't as dense as many of the alternatives, which means size can be a challenge for manufacturers as well. So, while some are available, more advanced versions of saltwater batteries may be slow to release.
4. Solid State
Solid-state batteries have a lot of potential. Here's why.
Battery Introduction
Solid-state batteries are a huge advancement in battery technology. Most batteries rely on some kind of liquid to allow the transfer of ions across the battery. Solid-state batteries don't need the liquid but still allow lithium ions to transfer efficiently through the battery. Solid-state batteries tend to be lighter, more efficient, and faster than liquid or gel batteries.
Solid-state batteries have actually been around for a while, but it's only recently that we've started to see the innovations and breakthroughs that have improved the speed and efficiency of this type of battery. The technology now offers comparable speed to liquid versions.
Advantages of This Battery Type
The huge advantage of solid-state batteries comes from increased safety. Solid-state batteries can operate safely in a wider range of temperatures. Solid-state electrolytes are also nonflammable, unlike liquid electrolytes.
This battery type also has the potential to be lighter, denser, and more powerful than liquid versions. Engineering around these batteries is also easier since they have fewer environmental requirements that need to be managed.
When Can We Expect It?
Some solid-state batteries are already available or in the process of manufacturing. That is especially true in the electric cars industry where a Colorado startup is contracting with major car manufacturers for the next generation of electric car batteries. These new developments are some of the latest technology news, and it's worth watching. Even more innovation in this upcoming battery technology is likely soon. Many experts agree that this is one of the most promising battery technologies we've found so far.
5. Cobalt-Free Lithium-Ion Battery
Availability has always been an issue with cobalt-free lithium-ion batteries. However, it wouldn't hurt to have further knowledge about it.
Battery Introduction
Cobalt-free lithium-ion batteries function similarly to lithium-ion batteries but eliminate the expensive cobalt. The trick with these batteries is figuring out alloys and elemental combinations that offer similar or better performance. Nickle and magnesium have been used to create batteries with similar performance and good ion distribution to cobalt batteries, but experimentation is ongoing.
Advantages of This Battery Type
Eliminating the cobalt in lithium-ion batteries eliminates the single most costly element included in the batteries, making them much more cost-effective. Cobalt is also the rarest element routinely included in batteries, and eliminating the cobalt makes the batteries much more sustainable.
Since cobalt is toxic, eliminating the cobalt in a battery makes them potentially less toxic if and when they break. Cobalt also has some human rights issues, which means that eliminating it from battery manufacturing could help address those problems as well.
When Can We Expect It?
Cobalt-free batteries are already available, but the supply is limited, and there need to be some changes in nickel availability before this future battery technology will be able to replace traditional lithium-ion batteries. However, Tesla and other companies are starting the push for changes in the mining industry to better support cobalt-free lithium-ion battery manufacturing and research. This kind of battery is getting better quickly, so you should be sure to keep an eye on the latest battery technology news for new innovations.
6. Silicon Anode Lithium-Ion Batteries
Silicon anode lithium-ion batteries are fresh in the market, but they have a lot of potential. Learn more in this section.
Battery Introduction
Silicon anode lithium-ion batteries are another fairly self-explanatory type. These batteries still use lithium-ion technology but replace the graphite anode with silicon.
Advantages of This Battery Type
The main advantage of silicon anode lithium-ion batteries is that they can handle a significantly higher charge than graphite batteries. Importantly, these batteries still offer a similar life span and long-term performance as graphite anodes. Unfortunately, silicon anodes are also prone to fracturing, which means that the batteries have to be designed carefully to prevent it.
When Can We Expect It?
Silicon-anode lithium-ion batteries were first commercialized in 2020, and manufacturing is expanding with increased demand. This is one of the most advanced battery technologies in lithium-ion batteries, so it may hit the market faster than other battery types.
7. NanoBolt Lithium Tungsten Batteries
NanoBolt Lithium Tungsten batteries are going to be part of the future, but it's best to get to know more about it better. Here are several details.
Battery Introduction
NanoBolt Lithium Tungsten batteries offer a layered structure that provides more surface area for ion transfer. The layers of nanotubes and different elements create a web structure inside of the battery that works with high efficiency.
Advantages of This Battery Type
There are two core advantages to this battery design – charging and power. This design is incredibly potent and allows for a much faster transfer of energy across the batteries. That means that the battery can charge and discharge faster, safely. It also allows the batteries to hold a greater charge than other designs.
When Can We Expect It?
This might seem like future battery technology rather than current reality, but this technology is ready and available, and the multilayered nanotubes can be cut to work in any size of lithium-ion battery. Since these batteries offer both charging and power advantages, they are considered a good innovation for electric car battery technology.
8. Zinc-Manganese Oxide Batteries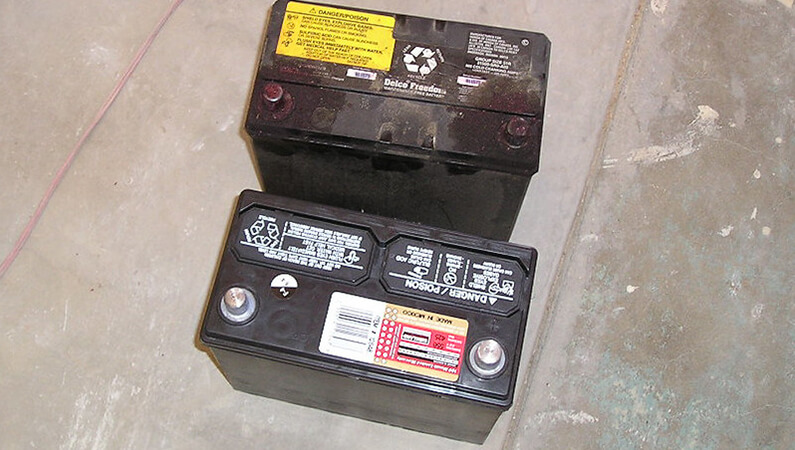 Zinc-Manganese oxide batteries are continuously making waves, which is quite important. Learn more about it here.
Battery Introduction
Zinc-manganese oxide batteries already exist, but recent innovations are getting closer to making these batteries efficiently rechargeable. With rechargeability and some improvements in charge capacity and efficiency, zinc manganese batteries are poised to compete with lithium-ion and similar batteries.
Advantages of this Battery Type
One of the biggest advantages of this kind of battery is that they are much safer than lithium-ion batteries. Since lithium-ion batteries are inherently flammable there are limits to what the batteries can do safely. Zinc-manganese batteries don't share that problem, so they will be a safer and easier-to-use option when they match lithium-ion batteries for power. These batteries might even be suitable for large power networks and other high-demand applications as a kind of super battery. They may also be used in new solar battery technology, especially for in-home use.
Here are some current solar batteries if you'd like to learn more.
When Can We Expect It?
Smaller device batteries are already available, but it may be several years before larger, rechargeable zinc-manganese batteries will be powerful and effective enough for mass manufacturing. However, new battery technology is being developed that will bring these batteries back to the forefront of the field.
9. Organosilicon Electrolyte Batteries
Organosilicon electrolyte batteries are about to go big. Thus, it's essential to start reading more about it.
Battery Introduction
Organosilicon electrolyte batteries are an improvement on lithium-ion batteries. These batteries use organosilicon electrolyte solvent to help stabilize the elements involved in the electron and ion transfer inside the battery. That stabilization helps improve efficiency while also improving safety.
Advantages of This Battery Type
This battery type is far more efficient than regular lithium-ion batteries. It's also much safer since the electrolyte solvent helps reduce the flammability of the batteries. The solvent also increases battery capacity and reduces charging times, making them more efficient.
Theoretical applications for this technology scale well and have good cycling performance, making them a possible option for use in supercapacitors. This battery type might also be used effectively in solid-state electrolyte batteries, combining the advantages of both technologies.
When Can We Expect It?
Some organosilicon batteries are available now, but most are used for smaller applications than their theoretical potential. New innovations will likely follow shortly after solid-state lithium-ion batteries also get more common.
10. Metal-Hydrogen Battery (Used by NASA)
While metal-hydrogen batteries are not commercially available yet, get to know how they work and why NASA uses them.
Battery Introduction
Metal-hydrogen, especially nickel-hydrogen, batteries are already in use in space. They're used on the International Space Station (ISS). These are flexible batteries designed for short- to long-term use, with nickel and pressurized hydrogen as the primary elements included.
Advantages of This Battery Type
One of the biggest advantages of this battery type is that they have incredibly high cycling tolerance. Current batteries can tolerate as many as 20,000 cycles, and the theoretical versions of these batteries could have almost unlimited cycling tolerance. That makes these batteries some of the best options for long life or in applications with rapid charge and discharge cycles. Rechargeable versions of these batteries are popular options for space equipment because of their long battery life.
These batteries are also highly overcharge tolerant, though heat management is critical if the battery is overcharged.
When Can We Expect It?
Likely, we won't see metal hydrogen batteries commercialized for a few years, but there are bids from current manufacturers to start the process. It might take a while for those bids to go through and more time to design manufacturing facilities and produce purpose-built batteries. Despite that, these batteries are considered a good prospect for renewable energy storage from wind and solar.
Keep an eye out for battery tech news about metal hydrogen batteries. With the recent surge in space technology, we might see more about this battery technology soon.
11. Redox-Flow Batteries
Redox-flow batteries are currently being improved. Learn more about them here.
Battery Introduction
Redox flow battery technology stores energy in recirculating liquid electrolytes. Power storage and release happen through reversible oxidation and fluid reduction. The most common versions of this battery are vanadium redox flow batteries, which are already in use and have a range of applications for large-scale operations.
Advantages of This Battery Type
One of the big advantages of this kind of battery is that it can help with load-balancing a system. They're also high capacity and handle cycling well. Because this kind of battery is highly scalable, they're good for large energy systems and have the potential to help stabilize and maintain large power grids. The value of load-balancing potential in these batteries also helps make green energy sources more sustainable at scale.
Here's some more information about energy storage technology and companies.
When Can We Expect It?
These kinds of batteries are in development for a wider range of applications now, and versions other than vanadium redox flow battery technology are also being tested. It's unlikely that these batteries will be used for smaller commercial purposes very often, but they may be used to form the backbone of growing green energy grids.
Conclusion
With so many options for new more efficient batteries out there, it's easy to see how these batteries might contribute to the technologies of the future. Many of these new batteries are also greener than the technologies they stand to replace, both in manufacturing and operation. That's critical since a battery that uses too many resources to build may still be an environmental problem. Reducing our use of rare earth metals and our dependence on questionable mining operations will also help reduce our societal carbon footprint even further. Next-generation battery technology is getting closer and closer to being reality, and it will help reduce some of the energy burdens of our growing population.
Likewise, those same qualities answer the needs of a renewable energy grid that may not have consistent input and output.
While many of these batteries are still years away from being used regularly, they still represent hope for a better, greener, energy future. It might not be clear yet what the best new battery technology will be, but the combination of these will surely reveal one.
Read More